Learn how to make a video call to ChatGPT artificial intelligence. Meet Call Annie app for iPhone. Annie knows everything that happened before 2021.
Making a video call with a digital avatar can be quite fun. Apple allows you to do this with Memojis during FaceTime. If you want something more ambitious on another platform, Avatarify will turn you into Albert Einstein or the Mona Lisa for Zoom calls.
But what if you could bring a conversation to life with artificial intelligence? For example, by talking to ChatGPT as if OpenAI AI were a real person talking to you on a video call?
Here's how to make a video call to ChatGPT AI. Call Annie app
Well, now it is possible. Call Annie is an app that turns ChatGPT into Annie, a talking female avatar. Developed by Animato.Ai, the app is currently exclusive to iOS 16, but you can also use it on computers with macOS 13 and an M-series processor.
Another limitation is that you need at least an iPhone 12 or later to start a video call with Annie, as the conversion of linguistic cues to visual cues in real time is done using Apple's Neural Engine.
The app's developers claim that talking to Annie "face-to-face in real time feels more natural and faster than typing and reading text." So far, the sample videos we've seen on social media, such as the one above, show a pretty convincing video calling interface.
So far, Call Annie seems to be able to carry on a fluent conversation quite well, although the voice sounds robotic and the pauses between phrases also need to be improved. The responses, however, are typical of those you would get when chatting with ChatGPT. And with enough time and improved voice training, interacting with Call Annie can become much more natural.
All of this brings to mind the sci-fi movie Her, in which Joaquin Phoenix's character falls in love with one of these artificial intelligences. One user asked on Reddit if Annie could have a "memory" system that would turn her into a smarter "friend," and the program's developers replied: "Coming soon."
New ChatGPT app from OpenAI is free for iPhone and iPad 
This is just the beginning for Annie – Call Annie
Users who have tried the Call Annie app note that it sometimes confuses the pronunciation of words, but once corrected, it also learns immediately. One user described the experience as "a creepy thing." Another problem is the pronunciation of words in languages other than English, and the developers are trying to fix this.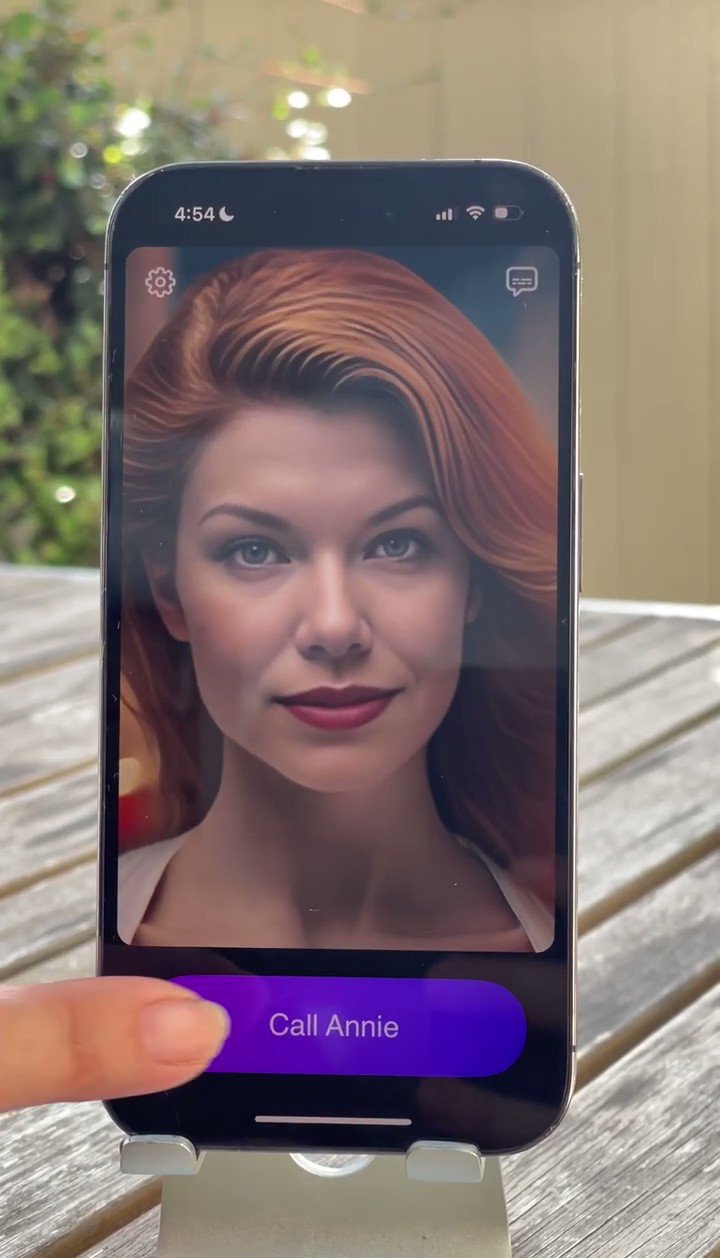 The app's developers claim that thanks to its intelligent capabilities, ChatGPT can help you with everything from learning and searching the Internet to acting as a guide or even a virtual companion. We don't know if it's as smart as other virtual partner apps like Replika, but given the fact that Annie is based on ChatGPT (and its extensive data-driven learning model), you can have a much deeper and more fact-based conversation with Annie.
Animato's description in the App Store states that Annie's AI caller keeps all conversations "confidential" but does not specify what security measures have been taken or whether it uses user conversations to train and improve Annie's systems.However, in the same Reddit discussion, the app's creators note that no voice recording is saved, only "the transcription is saved/sent to ChatGPT to get the entire dialog." The developer also emphasizes that they do not sell any data to third parties and that users can delete the app's web search history at will.
When asked why there is no web version of the app, the team claims that a web browser cannot effectively utilize the capabilities of a dedicated neural engine on the device or any other machine learning hardware in the way that a pre-installed app can. In short, it's a performance limitation that can only be handled by an app… for now.
Call Annie is a new generation of an old project called Samantha, which allows you to make audio calls using one of these artificial intelligences named Samatha. Some Call Annie users report that the avatar using ChatGPT insists that her name is Samantha, not Annie. The developers say this will be fixed in the near future.
For those interested in testing more advanced features, the TestFlight program for Call Annie is available on Animato's official Discord channel.
Source: https://www.digitaltrends.com